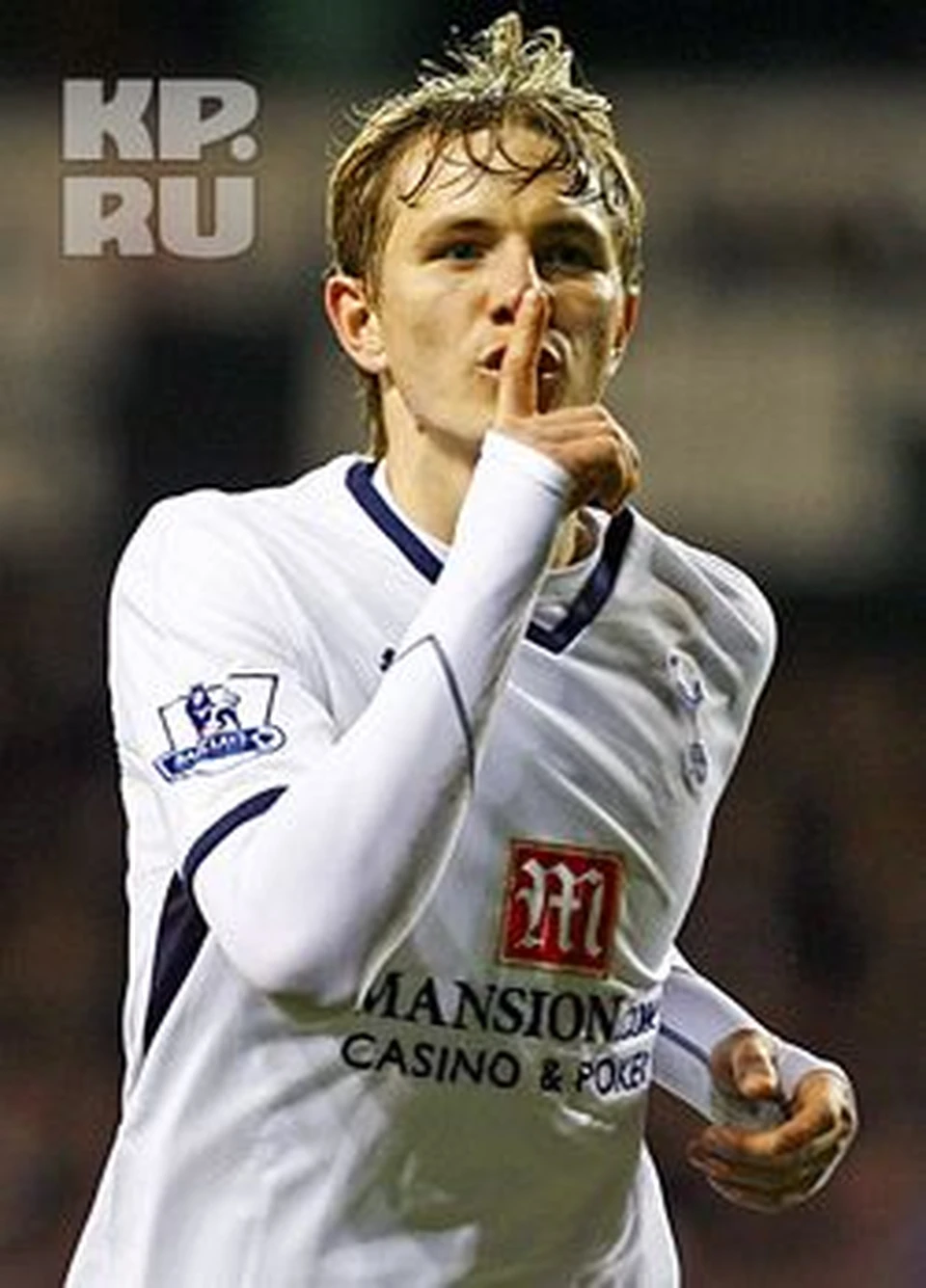 Павлюченко легко адаптировался в "Тоттенхэме".
Фото: АП
When we were calling Roman, he was in Russia having three days off.
– Roman, why did Tottenham let you have three days off in the middle of the season?
– Why not? I cannot lose my form in three days! I came here to Moscow not to visit dance clubs, but to be at home, to rest mentally, to talk to my friends and relatives. After defeat from Fulham not only me, but all the team should drive the negative thoughts away. So the possibility to go to Moscow has turned up, and I gladly accepted it.
– Were you so upset after that defeat?
– Of course! I am always upset after defeats. We have only just begun to climb up the table, and now we have dropped again…
– Did you ask for a holiday or they just offered you to rest?
– I knew that we are having two days off, and have asked for another one. I was told: "No problem. Go, if yo need!" In England they let the man have a day off if he asks. Because the main thing the are concerned about is how you play. But if you are on a day off, then, please, in the next match you must score! So I must score in the next match against Blackburn to prove that they did the right thing to let me on holiday.
– Are you settled now in English football?
– In fact I got used to it. Physically I feel perfectly well, I have improved very much recently. I am fond of all the things in the team. I am very happy that I came in Tottenham. How many kilos have I lost recently? Well, I don't know. I went on scale only two twice there. In Tottenham it's not about your weight, it's about the way you play! That's the most important thing.
– What surprised you most of all in English football?
– In Russia I was used to spend the night before the matchday in the training camp of the club. In England players does not do that. At first I even felt uncomfortable about that. But in fact that is great: you spend as much time as possible with your family. It's good for me.
– Now you've scored five goals for Tottenham. Which brought you more joy?
– They are all very valuable. Because we won all the games in which I scored. They tell me that Liverppol is now my "favourite" team, because I scored three goals against them. But I disagree. I think if I score in one more match against Liverpool, then they will certainly be my "favourite" team.
– The Rafa Benites will be scared when he sees you in the starting line-up.
– No, I don't think so. He won't even notice my name there…
– When do you whether you are in the starting line-up or not?
– I get the list where 18 players who will be in the squad are written, the day before the match. And several hours before the game we are told who is going to play from the start of the game and who will sit on the bench.
– Didn't you feel upset when Darren Bent scored goal after goal? It looks like he is your rival for the place in the starting line-up.
– I was never upset! I was happy because his goals helped us to win. The most important thing for me are the victories of my club. It is very hard to see Tottenham in the end of the table, because my team deserves much more. In England they say that Tottenham is far from being the worst team there. Our perormance is better than our place in the table. That's why it's not important who will play from the start: Pavlyuchenko or Bent or someone else. The most important thing that the team must win.
– What changed in the tem when Harry Redknapp was hired?
– It's hard to say. I can't understand why we lost so many games under Juande Ramos, he is a very good coach! But I felt something changed when Redknapp came. Maybe we started to pass better and control the ball more often. But I can't guess what has really changed. In England they say that it's "magic"!
– What does the manager ask you to do on the field?
– He asks me to run around the penalty area and to fight for the chance to score. We also pay very much attention to the set pieces. You must learn where you must stand in differnent situations during free kicks and corners. For example my job is to go back in our penalty area when our opponents have a corner. I guess that in England they don't know that I once scored in my own net in the Russian Premier league match against Lokomotiv Moscow. And I am not going to tell them about that! That's a joke, of course.
– It seems your partners do not pass you often…
– I don't agree. We have a good midfield. I cannot complain.
– Do you understand the coach when he instructs you before the game?
– To be honest, it is hard for me yet to understand everything. But I make a progress. I understand some words, and the interpreter translate me those that I don't understand. But now I am beginning to understand the sense of what the coach says.
– Redknapp is a very funny person, isn't he?
– I haven't seen him in rage. In the half-time against Fulham he wasn't happy and after the game he felt angry, I guess. But he never shouts at players. In Russia I've never met such coaches in my life.
– There are very few russian players who play abroad? Do you feel yourself special? Like a symbol of the country?
– I've never thought about that… I am not a symbol. A cosmonaut Youriy Gagarin is a symbol, I'm not like him…
– Can you talk to Guus Hiddink in English now?
– Well, I made a progress in English. I am studying hard with my teacher: I have five lessons a week! I can talk a bit in everydays life, I can talk in shops with the sellers, order some food in the restaurant. I will meet with Hiddink in February when the national team gathers and I hope then I will be able to talk to him in English.
– Did you get used to english roads? (in Russia we have left-hand-drive cars, in England – right-hand-drive)
– First two days it was very difficult, I could hardly turn to the right side. But now I am used to it. Was I stopped by police? No, thank God, no! I drive not fast, and I only once got out of my district. I have not even been to traffic jams.
– What car do you have?
– «Land Rover».
– Your wife Larisa and daughter Kristina have finally moved to you to London. Did they settle there?
– I think, yes, but I must admit that it is hard for Larisa. There are no friends of her there, too little communication. But I think that' a matter of time. We call our friends in Russia every day. My friends-footballers also call me, they follow me in England and ask me about the way I am doing…
– How do you spend your free-time with your family?
– We are almost always at home. It is not boring, it is a very valuable thing for a footballer to spend time with your family. In the morning I have a training, in the afternoon – my lessons. We only go out for a walk or somewhere to eat.
– Do you watch Russian TV?
– Yes, I bought sattelite dish and there are some Russian channels. But I watched only one russian football match. It was the derby Spartak Moscow against CSKA. I watched only the first half because I had to go to training. So when I heard that Spartak won, I was very happy for my ex-teammates. I called to the guys and congratulated them.
– In Tottenham you play in a very strange T-shirt with sleeves up to the very fingers. Is that fashionable in England?
– No, it's a common T-shirt. Many players wear it under the kit to keep the body warm. But it's a little bit overmade. It's handmade.
– Handmade by you?
– Yes, by me! I cut it a little, and I can easily hook the sleeves by my fingers. In England many play in them.
Читать русскую версию: Роман Павлюченко: «Английский учу, но с Хиддинком пока вряд ли смогу поговорить»